The New Zealand IYPT team achieved 5th place in the world and the top silver medal position.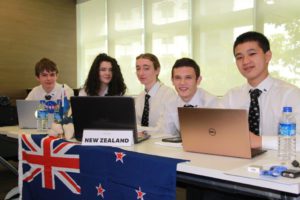 The New Zealand IYPT team in 2017 is comprised of Isobel Bremner (Onslow College), Eric Caufmann (Hamilton Boys High School), Jonathan Chan (Auckland Grammar School) , Finnegan Clapcott Messerli (Onslow College) and captain of the team Otis Rea (Wellington High School).
Team leader/ mentors : Gavin Jennings, Kent Hogan, Paul Gunn, Kerry Parker and Susan Napier.
The training camps in held for the team in Wellington and Auckland provided excellent preparation for them prior to departure for Singapore. The students in the team all managed to radically improve the standard of their solutions to the international level ready for the competition in Singapore. The team arrived in Singapore and were ready to take on the world.
The team and organisers would like to thank all of the supporters for their help again making this another very successful year.
In particular thanks to :
The Royal Society and Debbie Woodall, Auckland Grammar School, Onslow College, Wellington High Schoool, Riccarton High School, Hamilton Boys High School, Westlake Girls High School, The University of Auckland, The Institute of Physics, Electrix, Warpspeed computers, Victoria University of Wellington, The MacDiarmid Institute and The University of Canterbury along with many past IYPT participants and parents.