New Zealand Young Physicists' Tournament (NZYPT) 2023
The tournament has two parts: the New Zealand inter-school team competition (NZYPT), and a separate competition for individual students to represent New Zealand in the International tournament (IYPT).
The individual IYPT starts first because we must have the NZ representative team ready for the international round in July; at the end of the Northern hemisphere's school year. Students can start researching as soon as the NZYPT problems are published in September. This is highly recommended for individual competitors who may want to try more than one before choosing their best results for presentation.
The team competition reaches it's climax in May allowing more time for teams research all the 7 problems in NZYPT. Face to face NZYPT regional tournaments for school teams will take place in Auckland, Christchurch and Wellington. These will be followed by an Online National final for the top school teams from the regions.
NZYPT Inter-School team NZ Rep Team selection for IYPT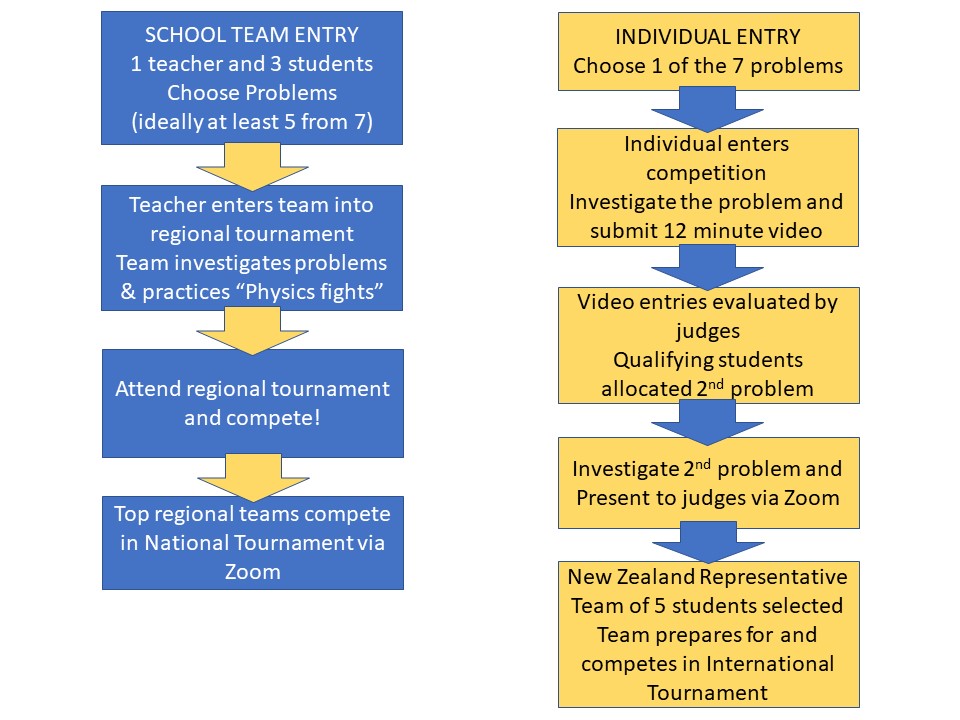 New Zealand IYPT representative team selection process
Entry is open to all students attending NZ secondary school full time. If they also want to compete in the NZYPT inter-schools team competition they must enter this separately.
There will be an IYPT information 2023 Zoom meeting for all interested students on Thursday 17th November at 6.00 pm to further explain the process and answer any questions. Click on the Zoom link above to join the meeting.
Entrants must research one or more of the 7 NZYPT 2022 problems and select their best solution to present via a 12 minute video report. The video should show the apparatus used and the experiment taking place with a PowerPoint (or equivalent) set of slides and an oral explanation of the Physics of their solution. The video needs to be saved on YouTube.
Individuals must register their intention to enter the New Zealand team selection process using the link IYPT individual entry link and have paid the $20 entrance fee by Monday 16th January 2023.
Each student and their supporting teacher will be sent an email explaining how to submit their video presentation after they have registered and paid the entrance fee.
The final date for video submissions is Monday 6th February 2023. No videos will be accepted after 10 pm (NZ time) on this date.
All participants will receive feedback by Monday 13th February 2023 including those students selected for first round "Zoom" interview as potential members of the New Zealand representative team. These interviews will take place online on Saturday 18th February 2023. Please keep this date free as alternative dates will not be possible. Students will be questioned by a jury panel consisting of physics teachers about their video and solution to the problem they have submitted.
Feedback on the presentations will be given by phone on Sunday 19th February including who has been selected for the second-round interview "possibles" squad. Each selected student will be allocated a new IYPT 2023 problem (one not used in NZYPT) for them to individually investigate.
The New Zealand team of 5 students will be selected from the New Zealand squad by a second online interview on Saturday 18th March 2023. Second round interviewees will present the results of their individual research in a live 12-minute online presentation followed by discussion with jurors. The successful team of 5 will be announced after all squad members receive feedback on Sunday 19th March 2023.
NZYPT inter-school regional and National school team tournament
Auckland, Christchurch and Wellington venues will host a regional tournament on Saturday 10th June 2023. Schools may enter up to two teams, each consisting of three students. Each team must provide a teacher/juror for their regional event.
All school teams must be fully registered with names of participating students provided and the entry fee of $135 paid by Friday 28th April 2023. Use the online form link that follows to start your entry process. (Student names can be changed up until Friday 26th May 2023). Schools are eligible for an early bird discount (reduced to $105 per team ) if they are all paid up before  Friday 28th April 2023.
Entry link for NZYPT regional tournaments 2023 is via this link  NZYPT inter-school team entry form.
Invoices and further details of the competition will be sent to schools on completion of the online registration form.
The top team from each region will compete in the Online National Tournament on Sat 17th June 2023 for the title of NZYPT National Schools Champions and the national trophy.
The 7 Problems for NZYPT 2022
1. Arrester Bed: A sand-filled lane results in the dissipation of the kinetic energy of a moving vehicle. What length is necessary for such an arrester bed to entirely stop a passively moving object (e.g. a ball)? What parameters does the length depend on?
2. Coloured Line: When a compact disc or DVD is illuminated with light coming from a filament lamp in such a way that only rays with large angles of incidence are selected, a clear green line can be observed. The colour varies upon slightly changing the angle of the disc. Explain and investigate this phenomenon.
3. Oscillating Screw: When placed on its side on a ramp and released, a screw may experience growing oscillations as it travels down the ramp. Investigate how the motion of the screw, as well as the growth of these oscillations depend on the relevant parameters.
4. Rice Kettlebells: Take a vessel and pour some granular material into it, for example, rice. If you dip e.g. a spoon into it, then at a certain depth of immersion, you can lift the vessel and contents by holding the spoon. Explain this phenomenon and explore the relevant parameters of the system.
5. Siren: If you direct an air flow onto a rotating disk with holes, a sound may be heard. Explain this phenomenon and investigate how the sound characteristics depend on the relevant parameters.
6. Jet Refraction: A vertical jet can be refracted when passing through an in­cli­ned sieve with a fine mesh. Propose a law for such re­fraction and investigate relevant parameters.
7. Euler's Pendulum: Take a thick plate of non-magnetic material and fix a neodymium magnet on top of it. Suspend a magnetic rod (which can be assembled from cylindrical neodymium magnets) underneath it. Deflect the rod so that it touches the plate only with highest edge and release it. Study the motion of such a pendulum under various conditions.